Your customers and investors are demanding environmental and  social sustainability. What are you waiting for?

The Zenovation Group helps you rise to the occasion.
"To prosper over time, every company must not only deliver financial performance, but also show how it makes a positive contribution to society."  "…profits are in no way inconsistent with purpose—in fact, profits and purpose are inextricably linked."
– Larry Fink, Chairman and CEO of BlackRock in his annual 2018 and 2019 Letters to CEOs
Connect with us!

For news about how companies are meeting the challenge and increasing their profits in the process.
Be ahead of what's ahead.™
A tsunami of demand for positive, measurable environmental impact is surging forward, from your customers, investors and all your stakeholders. Are you ready?
The Zenovation Group help companies communicate their environmental and social impact to stakeholders for higher investor and customer confidence and loyalty.
We help you proactively manage and embrace your stakeholders' escalating sustainability expectations in order to reduce your risks, increase demand, and be an impact leader in your industry.
Tsunami of Demand for Purpose-driven Sustainability
Both consumers and investors increasingly expect companies they do business with to be making meaningful positive impacts on the environment and society. They want to help create change by the way they allocate their money: focusing on companies that demonstrably and measurably improve environmental, social, and governance (ESG) factors rather than superficially or not at all.
Investors Expect Sustainability
The global Impact Investing market is over $715 billion of assets under management, according to the Global Impact Investing Network (GIIN) Annual Survey 2020, a 14x increase vs. $50 billion just 10 years ago.
By 2025, client demand is expected to drive ESG (environmental, social, and governance) mandated investments to fully half of all professionally managed investments (per Deloitte Center for Financial Services, February 2020).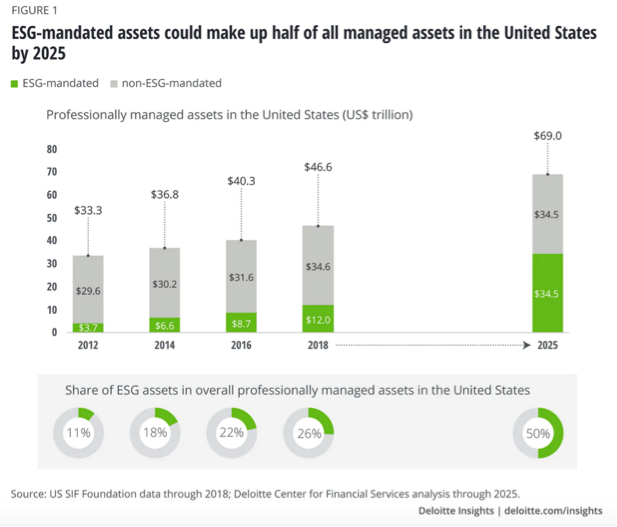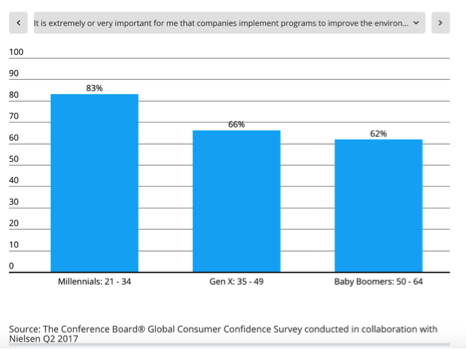 Consumers Require Sustainability
Consumers, especially millennials, overwhelmingly are determined to support only sustainable businesses (83%). This preference is globally significant among older consumers, with over 60% of those ages 35-64 years also saying it is extremely or very important to them that companies implement programs to improve the environment. (source:
Nielsen
, 2017)