Every Company Needs a Sustainability Plan
Your stakeholders are expecting you to boldly plan, and implement solutions, for an environmentally sustainable future. The Zenovation Group helps companies innovating nature-based solutions for the health of the environment and humanity. Preparing your company to minimize its emissions and impact on nature can reduce your operating risks, increase profits, and attract investors.
Prepare your company to meet the 2050 Net Zero global goals. We can help you get there.

Key Factors in Your Sustainability Transformation
The Zenovation Group provides you with the sustainability expertise  needed in these rapidly changing times:
Your Industry: We understand meaningful sustainability measures in food and agriculture and how they can impact the value of your company.
Regulatory Requirements: The SEC will soon standardize sustainability reporting requirements. We're tracking the emerging standards and their potential impact.
Global Reporting Standards: Sustainability expectations and reporting metrics vary globally. You need to know which ones are relevant to your company and how they can create competitive advantage.
Key Partnerships: We help you build strategic partnerships with key U.S. and  global players.
Increase Your Access to Capital and Grow Your Revenues
Attract Impact Investors
The global Impact Investing market is over $715 billion of assets under management, according to the Global Impact Investing Network (GIIN) Annual Survey 2020, a 14x increase vs. $50 billion just 10 years ago.
By 2025, client demand is expected to drive ESG (environmental, social, and governance) mandated investments to fully half of all professionally managed investments (per Deloitte Center for Financial Services, February 2020).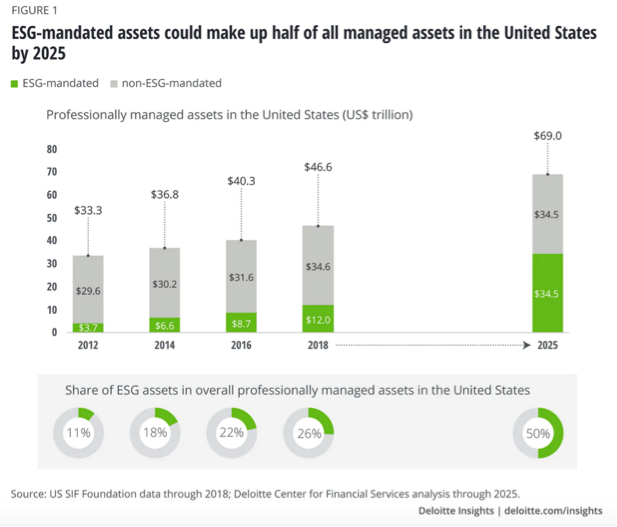 Attract More Customers
The Zenovation Group will help you attract sustainability-conscious customers at the wholesale and retail level to expand your customer base and increase your revenues. (Graph: Boston Consulting Group, 2020)