Let's Move Past Systematic Otherism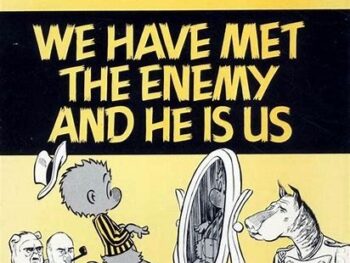 "We have met the enemy and he is us"
The key question of our time, impacting every decision and action we take is "Where did trust go?" We need each other more than ever, so why do we keep opposing people as otherthan us?
The other is us.
Let's play a game for a second. Close your eyes. Think about someone whose views are the opposite of yours. How does that make you feel? Fearful? Angry? Now see and think of this "other". For just a moment, believe that you feel their feelings. For just a moment, comfort them as you would a loved one.
Poet and modern-day philosopher, Mark Nepo, says in his recent book More Together Than Alone:
"For when we can listen deeply and give freely, there is a natural evolution…to the practice of care between self and other."
Yes! You say. We agree! And in despair, together we cry: "How do we get there!?"
Not just in our society, not just in the U.S., but even worldwide it appears, on the surface, that we have developed widespread systematic fear of others to a level that has not been seen in more than half a century.
This is an illusion. It is not who we are.
We humans are deeply empathetic. Everyone wants to be understood and everyone wants to belong. We yearn for each other and we crave supportive, healthy communities.
What if we changed the dialogue? Changed the assumption of mistrust? This is a big job!
It starts with the most influential voices in our society: the media, our political leaders, and corporate leaders. There are signs of progress.
Almost exactly one year ago, on August 19, 2019, the CEOs of nearly 200 of the largest U.S. companies (members of the Business Roundtable) signed a new statement on the Purpose of a Corporation.
Their newly affirmed Purpose is to serve the needs of all stakeholders, overruling the traditional primacy of the interests of the shareholders. The new Purpose now includes serving not only shareholders, but equally customers, employees, suppliers, and communities. The signatories of the new Purpose of the Corporation of included the CEOs of Apple, AT&T, IBM, JPMorgan Chase, Humana, Oracle, Pepsico and so many more.
This is a great start. Now these CEOs need to act on their stated intention – and they need to lead the way for the media and politicians to follow, quickly.
Let's not wait for those leading our largest institutions. The change must also come from everyday people like you and me. What can we do in our daily lives to live in trust and welcoming? Let's listen. Let's respect. Let's speak thoughtfully and with kindness. And let's expect the same of all our leaders at every level.
It's time to update Pogo's point of view and declare:
"We have found the peacemakers. And the peacemakers are us."
Kate Sackman is a social entrepreneur and innovator that helps companies scale their sustainability initiatives. She is the founder and CEO of The Zenovation Group. Follow Kate on LinkedIn.